Job Opportunities
There are currently no job opportunities with TUC.
TUC Organization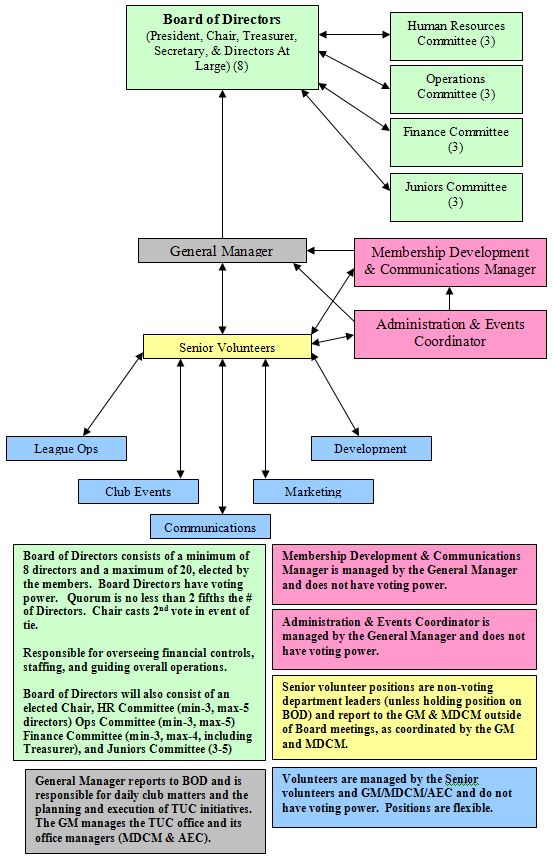 Board Positions:
President: Face of TUC (communicates with other leagues/communities/UPA/CUPA et al); approves league offerings and finances (including audit); represents the Board of Directors to the membership, consults regularly with GM to ensure smooth operation of Club
Chair: Calls and Chairs meetings of the Board of Directors. Appointed by the Board.
Treasurer: works with TUC staff to keep all accounting and books up to date/done (including audit); updates budget to the Board at end of summer and year
Secretary: records minutes of Board meetings
Director-At-Large: all other members of the Board who serve in addressing the long-term goals of the Club and who also serve on one of the Board Committees below:
Board Committees
Human Resources Committee: monitors and evaluates performance of TUC staff, establishes performance benchmarks for TUC staff, responsible for recruiting and hiring staff
Operations Committee: monitors daily operations of the Club, works with GM to solve immediate crisis or emergencies
Finance Committee: led by Treasurer, monitors Club finances and approves large financial expenditures and the budget
Juniors Committee: monitors and conceptualizes development of youth ultimate
Senior Volunteer Positions
Social Events Chair: plans all league parties and social events; has a budget but must be vetted by GM
Web Master: yearly budget vetted by GM; runs/maintains/updates website as directed by the GM
League Chair: works with TUC staff to set schedules/fields/divisions; finds/locates/directs league conveners; spirit and league problems/issues/solutions (vetted by GM); league rules; league tournaments; reports to the MDCM
League Conveners: communicates with team captains; fields complaints; reports spirit problems/issues/ and all other issues to League chair/MDCM
Touring Chair: improves and monitors touring policy; maintains relationships with touring teams; sets/enforces touring policy
School Clinics Chair: promotion and execution of TUC skill clinics at local schools and community centres, establishment of instruction criteria and protocol, recruitment of instructors, liaison between TUC and schools
Spirit Chair: monitors spirit scores, communicates with teams or players with low spirit, proposes new ways of improving spirit in TUC, consults with GM, MDCM, and League Chair in evaluating serious incident reports
Lands Committee: monitor land developments in the GTA, identify and report opportunities to GM, help build business cases for future projects
Volunteers Needed! If you are interested in volunteering with TUC please contact volunteers@tuc.org