If you have anything you'd like to see added to this archive, please contact webmaster@tuc.org.
Winter
Congratulations to our Winter Indoor winners
Monday Premier League
Tuesday Men's League
Furriest Yorgos(pictured below)

Thursday Co-ed League
Tier 1: Lionel's Puppy Farm
Tier 2: Lucky Dogs
TUC All-Nighter Tournament
At midnight March 31, 90 crazy folks came out to participate and they took advantage of the 4 fields at the Hangar from midnight to 7am. There were tons of great prizes, free water/fruit/bagels and Xilarate Power Fluid, and some pretty sweet Ultimate too!
We were able to raise $1750 for the Easter Seals Society! These proceeds will help in assisting youth and young adults with disabilities achieve their full potential and future independence.
Photos from the event are courtesy of www.craigstephenphotography.com
Spring
BE ULTIMATE! City Clean-Up
As part of our 'Be Ultimate!' community effort, we sent a crew of roughly 15 people to Cedarvale Park on a beautiful Saturday morning. This was our Club's way of participating in Mayor David Miller's 'City Clean-up' (our 3rd year) and supporting the City's efforts to keep Toronto green and garbage free! It was a sunny and warm morning and we picked up over 20 bags of garbage. Many local residents were excited to see volunteers, adorned with TUC shirts, swarming the hills, fields, and footpaths and keeping their park clean. Afterwards, we threw the disc around and enjoyed the fantastic weather. A big thanks to all of the volunteers who participated and to the City of Toronto for providing us with the garbage bags and gloves. We had a great time and we look forward to helping clean our City again next spring!!!
Here are some photos from the TUC City Clean-up Day on April 21, 2007:
Spring Clinics
Here's our group of players (now with killer new moves) from the indoor clinic on April 19. Thanks to all who participated!
Here are also some pictures from our May 5 clinic.
JUST
The Juniors Ultimate Spring Tournament, held on May 16 at Birchmount Stadium & Park, boasted 20 high school teams from across Ontario. Despite the dreary weather, all teams played spirited and competitive Ultimate and enjoyed the experience. High school Ultimate continues to grow in quantity and quality and TUC continues to be there every step of the way. For more info on the event and the results visit our J.U.S.T. results page.
ULW
The Ultimate Long Weekend, held May 18-21 at Olympia Sports Camp in Huntsville, was a fantastic event. Approximately 100 people joined us for a warm weekend packed with Ultimate, other games (like basketball and volleyball), and a lot of late night shenanigans! Two teams who dominated much of the round robin play, Godzilla & The Magician's Alliance, met in the ULW finals. Godzilla pulled out a spirited 15-9 victory. For photographs from the event, courtesy of www.craigstephenphotography.com, visit this ULW link.
Summer
Summer Season Kickoff Party
On Friday, May 25, TUC hosted its Summer Season Kickoff Party at the Madison Pub in the downtown T-dot. Over 150 people attended (of which the first 50 received a free drink) and enjoyed a great social atmosphere. The packed house was all ears for the raffle prize draws (free Hilton Gift certificates, DVD's, discs, and Xilarate gear) and all eyes for the 6-man Boat Race competition. This one was an absolute ripper, just imagine how good the next one will be! Photos from the event, courtesy of www.craigstephenphotography.com, can be viewed at this link or round 2 photos at this link!
TUC Summer Experience
The weekend of June 16th & 17th played host to the inaugural TUC Summer Experience Tournament at Sunnybrook Park. The beautiful weather made it a perfect weekend for both touring and recreational players to get outside and play some ultimate. In the touring division, Monster came out on top with a 12-9 win over Liquid in the final. 4D won the TUC team division with a 13-8 victory over Play Anything. Congratulations to both teams on their wins!
Here are the champs, 4D (TUC Division Champs) and Monster (Touring Division Champs):

Here are some more pictures from the event, courtesy of www.craigstephenphotography.com.
Mid-Season Tournament
Thirty-seven teams took to the Sunnybrook fields for this year's Mid-Season Tournament. It was a fantastic weekend of ultimate and three tier champions were crowned. Congratulations to Big Hammers, Superheroes in Training and Tomatoes by You, this year's champions! Big Hammers beat Tony & Carmel 8-6 to take the Tier A crown. Superheroes in Training were victorious in Tier B and Tomatoes by You won Tier C. And a special congratulations to Flick This for winning the Mid-Season Spirit Award.
Photos from the weekend, courtesy of www.craigstephenphotography.com, are posted here.
Big Hammers - Mid-Season Champions
Superheroes in Training - Tier B Champions
Tomatoes by You - Tier C Champions
Flick This - Spirit Award Winners
Canadian Ultimate Championships
Toronto's teams gave us something to cheer for and we're very proud of the effort that everyone put in to the National Championships in Toronto. Congrats to GOAT, Capitals, Dirt and Tombstone for representing Toronto very well at the tournament. Pictures of the tournament are available courtesy of www.craigstephenphotography.com.
Here are the final placements of all of Toronto's teams.
Masters:
Tombstone - 1st
Fossil - 5th
MAO - 11th
XY - 12th
Mixed:
Snipe - 5th
Monster - 6th
Big Hammers - 7th (beating their seed by 10 spots!)
Juniors:
Dirt - 2nd
T3 - 6th
Flick Off - 13th
Open:
Goat - 2nd
GT - 10th
Too Bad - 16th
Roy - 17th
Women:
Capitals - 2nd
Diggers - 5th
Feisty - 10th (Spirit winners!!)
XX - 15th
August Hat Tournament
On August 18th we had six hat teams take to the fields at Riverdale for a great day of ultimate. Team 6 managed had some very tight game but managed to go undefeated on the day to win it all. Pictures from the day, courtesy of www.craigstephenphotography.com are available here.
Team 6 - Hat Tournament Champions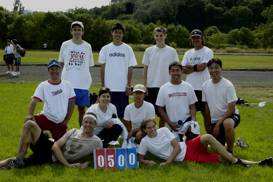 Summer League Playoffs
Congratulations to our TUC Summer League Champions!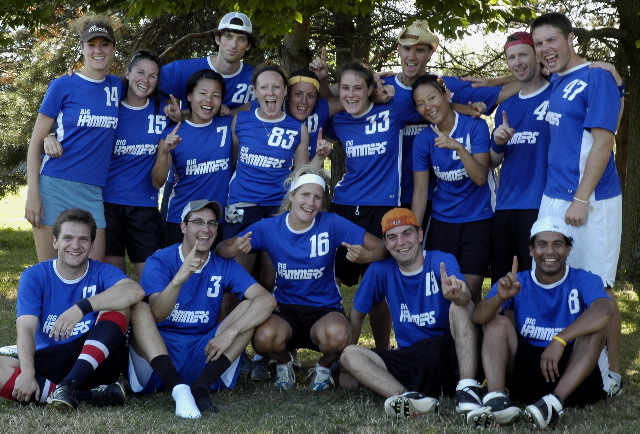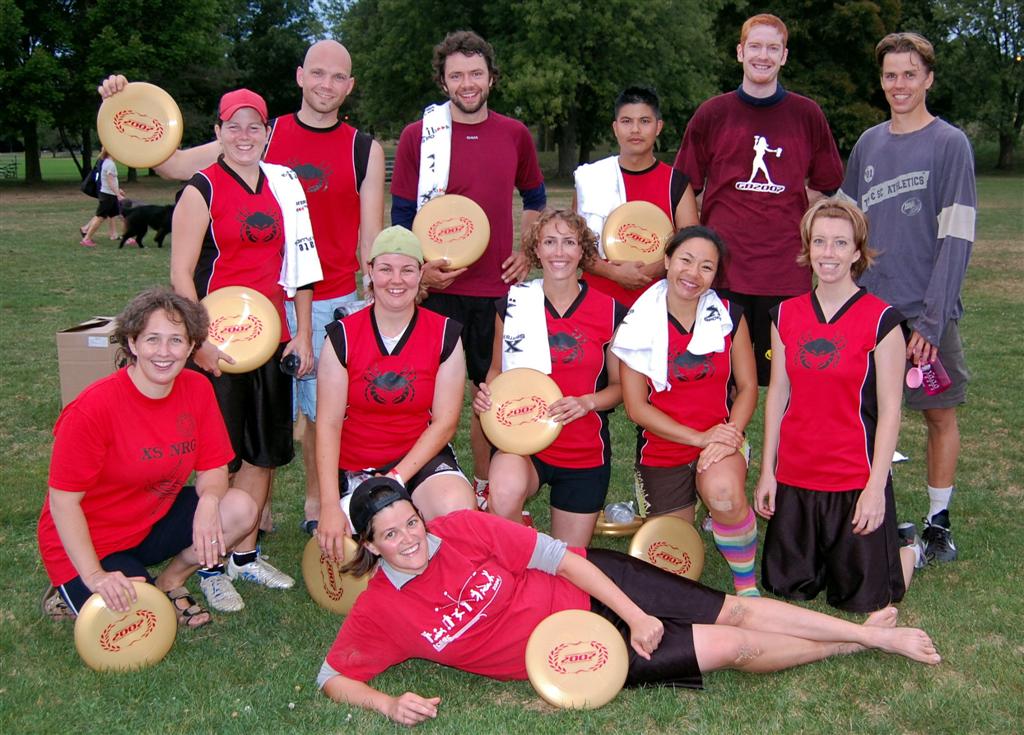 Big Hammers - Summer Monday Champs Krabs - Monday 'B' Division Champs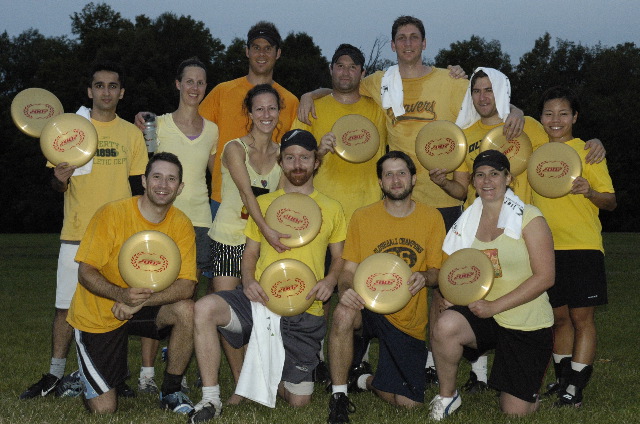 I'm Idahucker - Summer Tuesday Champs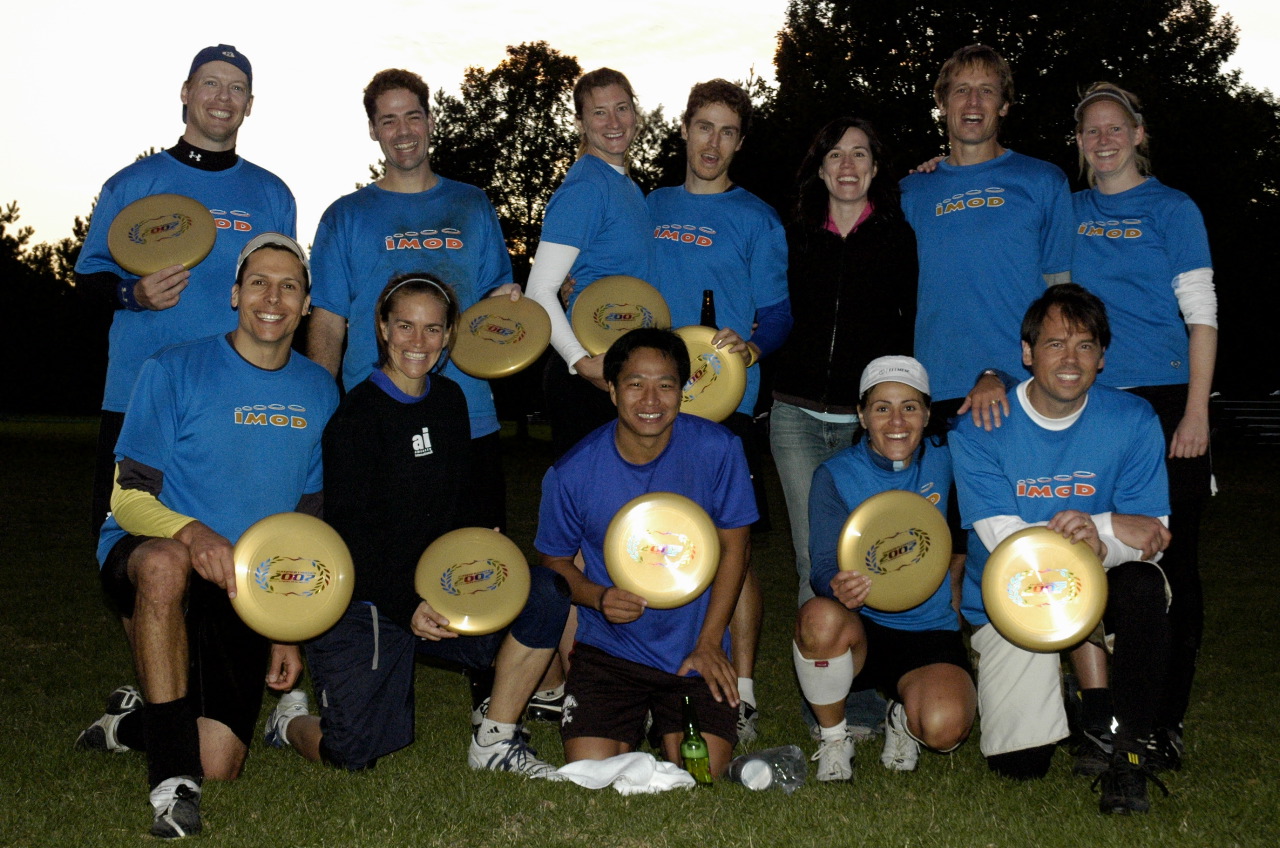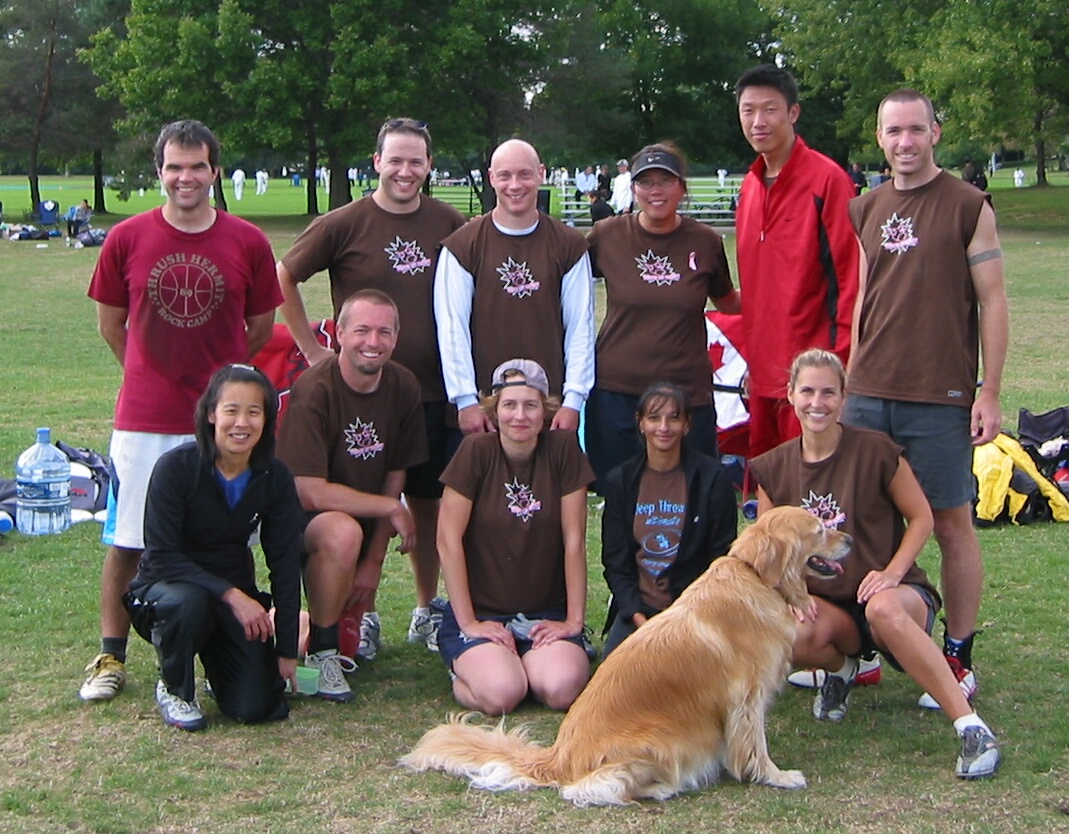 IMOD - Summer Wednesday Champs Throw Les Vaches - Wednesday 'B' Division Champs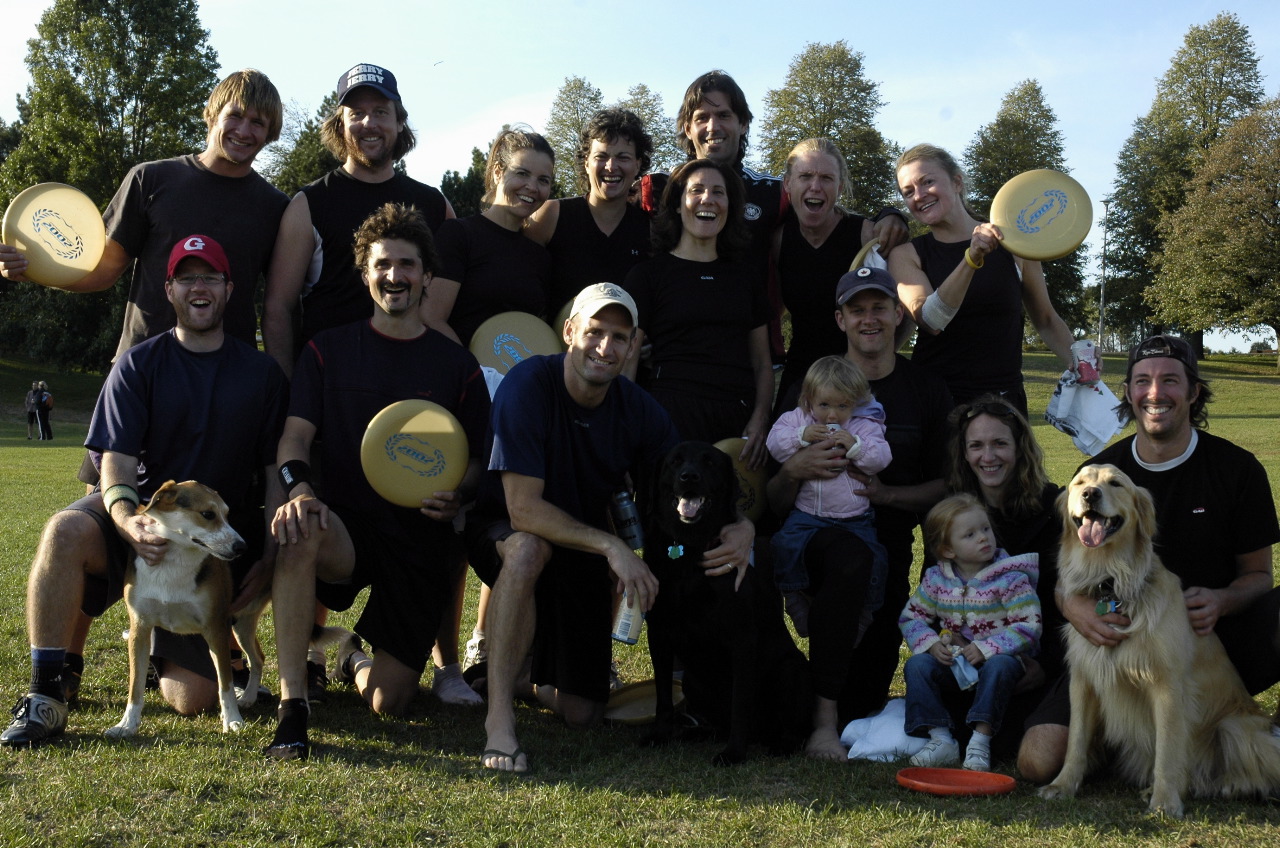 Turd Ferguson- Summer Thursday Champs
Photos from the Summer Playoffs are available courtesy of Craig Stephen Photography. Links to playoffs photos and other TUC events can be found at the top of each page.
Fall
Fall Outdoor League Champions
The finals for the Sunday Co-Ed Outdoor Fall League concluded on November 25. Despite the snowy terrain, the sun provided some warmth and the teams were in great spirits. In the finals the challenger Abunai gave Red October all it could handle, but in the end the defending champs pulled through for the victory. Red October has now won the last 6 consecutive Fall titles and 8 of the last 9.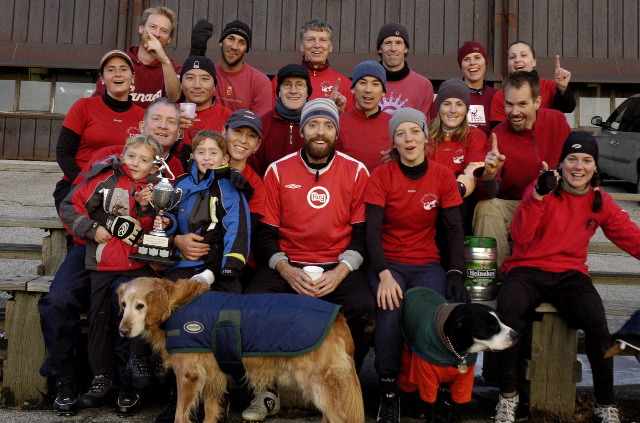 For pictures from the final game, courtesy of www.craigstephenphotography.com, check out this slide show.
The Finals for the Fall Men's and Women's Outdoor Leagues concluded on Hallowe'en eve. Congratulations to 'T-Stoned' who defeated 'Can You Dig It?' to capture the Men's Final, and 'Seven in the City' who won the Women's Final over 'Lily X'.
Fall Indoor League Champions
Thursday Co-Ed Draft League
In tier 1, Pigs In Space (pictured below in their prize shirts) capped off an undefeated season (10-0-2) with a close victory over Five-O to take home the John C. Harris Memorable Hogtown Winter Indoor Disc Livestock Trophy.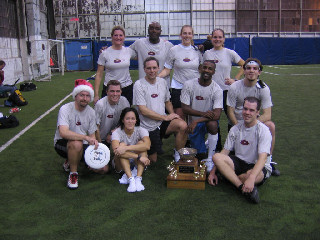 In tier 2, Rosy the Vietnamese Potbelly (pictured below) scored a convincing win over Pulled Porkers.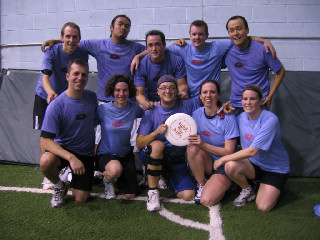 Monday & Tuesday BMO Fall Champions
Coming soon