ATTENTION ALL ULTIMATE PLAYERS! REGISTRATION FOR TUC SPRING AND SUMMER LEAGUES OPENS MARCH 14!
Starting Monday, March 14, registration will be open for TUC 2011 Membership, Spring League, AND SUMMER LEAGUE! Please read the key information below:
How to Register

Registration is done online at www.tuc.org. Click the How to Register icon for instructions on how to get started. Also, check out the Leagues – 2011 Registration Information pages for more information on our memberships. For information on Spring and Summer Leagues, check out the links under 'Leagues'.
Key Registration Dates
March 14
2011 Membership, Spring League, and Summer League registration OPENS
March 31
Spring League Registration CLOSES
May 6
Summer League Registration CLOSES
TUC Membership 2011
All players in TUC leagues must first be a valid member of TUC, as our Club is a true not-for-profit organization driven by its membership. The new TUC membership year begins April 1, 2011 and runs through to March 31, 2012. Therefore, in order to play in Spring or Summer Leagues in 2011 you must renew your membership or signup for a new one. Then you complete your league fees. If you registered for a membership in the Fall (2010) or Winter (2011) those memberships were pro-rated and do not cover the new membership year. So first and foremost, register for your TUC 2010/2011 membership! Visit our Membership Information page for more details.
2011 Spring Leagues
We offer PREMIER TURF FIELDS and 5 different Spring league offerings on 4 different nights starting the week of April 3, 2011. Leagues run for 6 weeks and are a pre-cursor to our 16 week summer league - summer league begins the week of May 23. Spring Leagues are the perfect opportunity to gear up for the summer and get outdoors again! Note that each league has its own unique start and finish date, due to field availability.
2011 Spring League Offerings:
| | |
| --- | --- |
| Mondays: | ***NEW*** Masters Spring League at Crescent School (Individual Registration only) |
| Tuesdays: | Intermediate Coed at Cherry Beach (Team and Individual Registration) |
| Wednesdays: | Competitive Coed at Downsview Park and Crescent School (Team and Individual Registration) |
| Thursdays: | Recreational Coed at Cherry Beach (Team and Individual Registration) |
| | Intermediate Coed at Downsview Park (Team and Individual Registration) |
More detail information including pricing for teams and individuals can be found on our Spring League pages
2011 Summer Leagues
Summer League information is now posted on our Summer League General Info page and our Summer League Registration page.
Pre-Registration For Returning Summer Teams
During pre-registration period (March 14-20) the same person from summer 2010 must register the team again. If there is a new captain, have the person from 2010 register the team during the first week (but don't pay) and then contact admin@tuc.org to advise who the new captain is. We'll switch the captains (within 1-2 business days) and once we do so, the new and proper captain can complete payment and confirm your spot. We realize this isn't the most user-friendly protocol, but we want to ensure the proper team gets its spot. If your team is switching to another night you must wait until March 22, to ensure all returning teams get first crack. We recommend signing up early to get what you want and we'll do our best to slot every team in their preferred night & division.
Team fees for Summer League will be $850 per team and individual fees (for those who want to register as a solo player on a hat team) are $65 per person. The cost for a game on a per-player basis for the summer is an average of $4 per person. Summer season is 15 guaranteed games, co-ed 7-on-7, games to 17, full field.
The Captain's meeting will again be held Wednesday May 18th, at Whistlers Bar and Grill (Broadview and Mortimer) in The McNeil Room. This meeting is for ALL weeknight summer teams. Each team captain MUST attend the meeting or send a team rep. Any team who does not send a representative will be penalized – expect the majority of your games to be on lesser desired fields if you do not attend the captains meeting!
2011 Catch The Spirit Results
B Division - February 24, 2011
Congratulations to Cobourg who went undefeated and captured the B Division title over Parkdale.
A Division - February 25, 2011
Congrats to Barrie North who won the A Division! They edged out Aurora on universe point in the finals as well as Thornhill in the Semi-finals on universe point.
Final results
Catch The Spirit Pictures courtesy of Ian Brooks
2011 UCC Winter Intermediate Winter League
Congrats goes out to the Sunday Sinners who swept the UCC Indoor season by beating Slam Dunks in the winter league finals on Sunday March 6, 2011.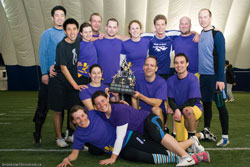 TUC will be hosting 3 Indoor clinics of various levels in April at Lamport Stadium on Sunday April 3rd, 10th and 17th. These sessions will range from Beginners on the 3rd up to Intermediate level on the 17th. These sessions are ideal for players of all skill levels, especially those newer to the game.
TUC clinics are taught by expert instructors will run you through skils, drills and include some 'game' action. These clinics are co-ed and open to all levels of players - from newbies to those players who just want to work on their skills.
Apr. 3rd – Beginner Clinic – 3-5pm, Lamport Stadium
If you're a newcomer to the game, looking to establish strong individual skills in throwing, catching, cutting and defending, this clinic is for you.
Cost: $10 for TUC Member, $20 for NON-TUC Member
Apr. 10th – Recreational Clinic – 3-6pm, Lamport Stadium
Got the basics down? Then recreational level is for you, where you'll learn more about stacking, basic strategies, and most importantly, how to play together as a team.
Cost: $10 for TUC Member, $20 for NON-TUC Member
April 17th – Intermediate Clinic – 7-9pm, Lamport Stadium
By now you're fully addicted, and you want to play more competitively! Join us at our intermediate clinics, and learn more about advanced drills, offensive and defensive techniques, and game theory.
Cost: $10 for TUC Member, $20 for NON-TUC Member
TUC Members that register for all 3 indoor clinics at the same time receive an additional discount of $10, paying only $30.
You must register online at www.tuc.org in order to participate.
For more information, please visit the clinics page on our website or send us an email at clinics@tuc.org
See you on the field !
ALL-NIGHTER CHARITY TOURNAMENT RECAP
On Friday, February 18, beginning at midnight and going through to 8am on Saturday morning, February 19. Over 40 Ultimate players came and played Ultimate all night long. Players battle through exhaustion and the need to sleep and we managed to raise $500 towards our charity of choice, Ultimate Peace.
Ultimate Peace is a young organization that uses Ultimate Frisbee as a tool to forge friendships and peace between youth of different cultural and social backgrounds. For more information visit www.ultimatepeace.org.
At the end of a long night, early in the morning Team D emerged victorious...
All-Nighter pictures courtesy of Ian Brooks
VC ULTIMATE PROMO
Follow Us:
<iframe style="border-bottom: medium none; border-left: medium none; width: 120px; height: 21px; overflow: hidden; border-top: medium none; border-right: medium none" src="http://www.facebook.com/plugins/like.php?href=http%3A%2F%2Fwww.facebook.com%2Fpages%2FToronto-Ultimate-Club%2F189092547779744&layout=button_count&show_faces=false&width=120&action=recommend&font=tahoma&colorscheme=light&height=21" frameborder="0" allowtransparency="allowtransparency" scrolling="no">