TJSL Playoffs 2009
During the last week of TJSL 2009, four teams from three divisions faced off in a single elimination playoff bracket. The final champions were the East team, who beat West in the final. Congratulations East! Each participant recieved a TJSL logo'd disc for their efforts - thanks everyone! We look forward to doing it again next year.
Tuesday, August 25th: North 2 (7) vs West (11) Eglington Flats (Field Hockey 7)
Wednesday August 26th: North 1 (13) vs East (16) Sunnybrook Park (Field Hockey 1)
Thursday August 27th: Final: East (13) vs West (2) & 3rd place game: North 1 (14) vs North 2 (8) Downsview Park (West 1 & 2)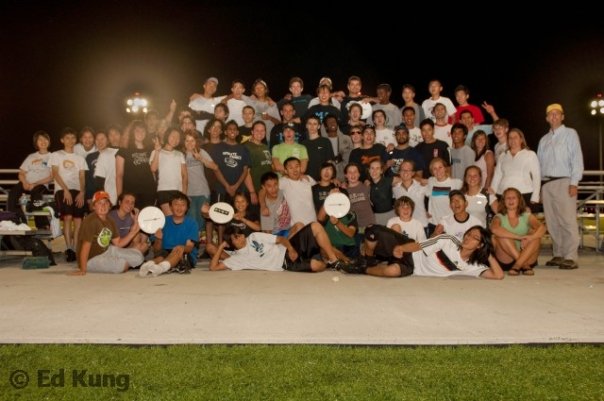 Picture Courtesy of Ed Kung
Toronto Juniors Ultimate Facebook Group
We have a facebook group page specifically for Juniors playing Ultimate in the GTA! This page is run by Juniors, for Juniors, and it's a forum to gossip about the latest Ultimate news or get updates on Juniors Ultimate events in Toronto. Check it out and join up now! Login to facebook and then try this link: http://www.facebook.com/home.php?#/group.php?gid=46406277839&ref=mf. If it doesn't work search for 'Toronto Juniors Ultimate'.