Read further for information on the upcoming winter season and all of TUC's League offerings. Only registration AND payment confirm your spot. If you register, but don't pay, this does NOT hold your spot! We expect spots to go quickly, so please don't delay.
2014 Winter league registration availability now posted. Read further to see what is still available.
Published: Dec 09, 2013 - 12:41 PM
Read more about 2014 Winter League Information - Registration Now Open and Filling Fast! (4034 more word(s))
---
Attention all TUC members and visitors: the TUC Head Office will be closed from December 17 - January 5, for our office move and the upcoming holidays. The head office will be moved to the new Clubhouse facility at Monarch Park Stadium on December 17! We welcome all visitors in the new year. To learn more about our recent clubhouse loan click here.
We are seeking a few good volunteers to help us move! At 10:30am on December 17 we will be loading a moving truck in the west end (near Bloor & Islington) and then unloading in the east end (Monarch Park Stadium) in the early afternoon. If you are able to help us on either end (or both) please contact Jack at volunteers@tuc.org
Published: Dec 05, 2013 - 11:38 AM

---


JUNIOR WINTER LEAGUES FOR YOUTH AND TEENS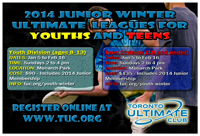 Beginning in January 2014 TUC will be running junior leagues for both youths (ages 8-13) and teens (under 18).
Read further for more information on the TUC Junior Winter Leagues
Published: Nov 28, 2013 - 01:31 PM
Read more about Junior Winter Leagues for Teens and Youths - Registration is Open (598 more word(s))
---


Discraft is sponsoring the TUC Parity League! For this Fall and upcoming Winter seasons, Discraft will provide 50 themed discs per season to be used for prizing and volunteers. To learn more, read further. We are currently seeking help with the digital design of the Discraft TPL discs! If you or someone you know is interested please contact Jason ASAP at gm@tuc.org
Published: Nov 22, 2013 - 11:29 AM
Read more about Discraft Sponsoring TUC Parity League (248 more word(s))
---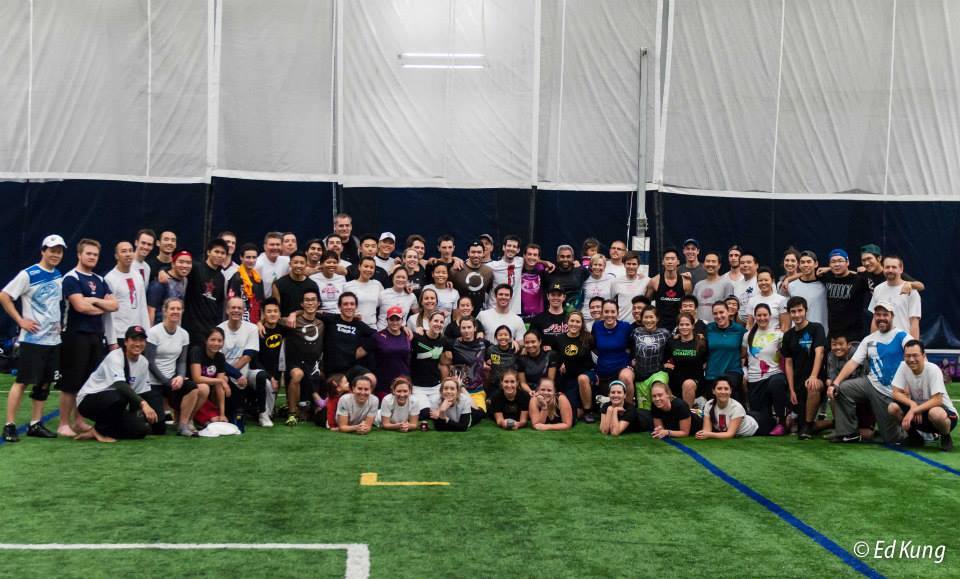 TUC hosted its annual Volunteer Appreciation Tournament on November 23 and we had a record attendance number! Check out the results here! Read further for more details about the event.
Published: Nov 01, 2013 - 03:44 PM
Read more about 2013 Volunteer Appreciation Tournament - Results Available (510 more word(s))
---