Each player participated in both a throwing accuracy and distance competition.  There were two divisions for each discipline, a over grade 6 division and a grade 6 and under one.  Future GOAT hucker, Nicki Gallant, won both the accuracy and distant in the grade 6 and under division.  In the over grade 6 division Torja Istiaque won the accuracy while Umer Zulfigar won the distance.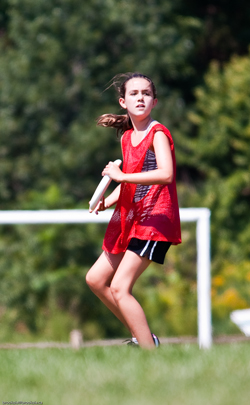 During the afternoon festivities the kids were also grouped into two teams, the RED team and the BLUE team, and put on a fantastic display of ultimate for parents and spectators.  The game was a back and forth battle where no team went up more than 2 points on the other.  With less than 5 minutes remaining in the game the red team being down by a point quickly scored to tie the game at five each.  "Next point wins" is then announced by one of the coaches.  These were the words that got everyone on the field motivated as both teams played with an energy that could have been compared to that of a GOAT versus Furious George playing universe point for a national championship.
The point went back and forth for around 15 minutes with both teams having ample opportunities to get that final point for the win.  There were hucks, great defense, smooth flow and of course lots of running.  In the end, the red team capitalized on a mid field turnover to quickly move the disc up field and with a 20 yard pass into the endzone to score the championship point.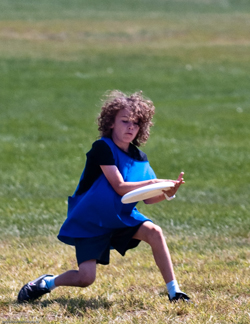 Congrats to all participants of the TJSL Youth division.  Junior ultimate has come a long way in the city of Toronto and it's great to see that there is a young generation of players under the age of 14 years old that already have know the basics of the game.  The future of Ultimate in Toronto is looking great and that is all thanks to the great coaches that we've been lucky to have volunteer their summer to help out. 
A special thank you goes out to TJSL Youth coaches:   Thomas Meyer, Christopher Bracht, Dilhan Kuru, Marianne Long, Jon Brandt, James Lim, Daryl Newbury, Matt Machina, Sandy Yep, Emma Thompson-Murphy, Sebastien Gest and Chris Kam for their dedication in organizing and developing the future stars of Toronto Ultimate!
For those youth participants interested in continuing in the fall or even if you want to join up as a new player we will be running a Fall League for Youth aged (8-13 years old) players starting from September 21 until November 5 at Riverdale Park from 12 PM to 2 PM. Participation for this league is free but you must be a registered TUC Junior Member ($35).
2012 TJSL YOUTH PHOTOS
-courtesy of Ian Brooks
This Thursday August 30th sees the TJSL Teen division finals that will be taking place at Downsview Park from 7:00 PM to 10:30 PM. Come check out as the 5 divisions from across the city come together to battle it out to be the 2012 TUC Junior Summer league champion.