Mark down the 25th of May on your calendars because it is going to be a packed day of ultimate fun and partying! The Vigilante themed 2013 Spirit Hat will run from 9am to 4pm through the day at Sunnybrook. And the 2013 Summer Kick Off Party 8pm to 1am at the great location of The Victory Cafe during the night.
Click for registration links and information on how you can be a part of this great day and win some major prizing from TUC and our sponsors
Published: May 09, 2013 - 04:58 PM
Read more about 2013 Spirit Hat and Summer Kick Off Party (600 more word(s))
---


The Toronto Ultimate Club and the Toronto Rush will be holding another skills clinic for all levels at Monarch Park Stadium on Sunday May 26th from 1:30 PM to 3:30 PM. Players of all ages, gender and skill levels are invited to register for this event as we will be covering everything from the basics of throwing a disc to advance techniques of man coverage. Come out and learn the game from the top ultimate players in the city.
There will be 3 separate clinic groups, each with a program geared towards a specific level of play:
Beginner/Recreational; Clinic covering the basics skills needed to play the game.
Intermediate; Clinic covering basic offense and defensive team game play
Competitve; Clinic geared towards the high level player wanting to learn the finer points of the game.
Sign up for the program that suits you. Whether you are a beginner, intermediate or high level player there is something for everyone.
Clinic cost will be $30 per TUC Member and $35 per NON-TUC Member
For more information email clinics@tuc.org.
Published: May 08, 2013 - 12:01 PM
Read more about Ultimate Clinic - May 26th at Monarch Park Stadium (110 more word(s))
---

5 Week Clinic Series
Learn how to play Ultimate Frisbee, the world's fastest growing sport. TUC has a 5 Week Clinic Series for the those newer players to the game. There will be 2 separate levels of Clinic Series, a Beginner/Recreational level and an Intermediate level.
The TUC Clinic Series will run on Monday evenings for 5 weeks from June 3rd to July 8th (no session on Monday July 1st), from 6:45 PM to dusk at Sir Winston Churchill Park.
FREE TORONTO RUSH TICKET

Thanks to our friends at the Toronto Rush, every registered participant will receive 1 ticket for a 2013 Rush home game at the Varsity Centre.

For more information on Toronto's Professional Ultimate Frisbee team visit torontorush.com
For more information on the TUC Clinic Series please read further.
Published: May 09, 2013 - 04:13 AM
Read more about 2013 Summer 5 Week Clinic Series - June 3rd to July 8th (569 more word(s))
---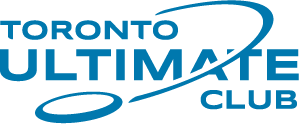 Toronto, April 12, 2013 – The Toronto Ultimate Club (TUC) is thrilled to announce its new logo!  This logo will serve as the official logo for the TUC and replaces the previously used versions.
After several months of soliciting many submissions, requesting revisions from designers, and reviewing the finalists, the recommendation was made by the TUC Board to move forward with a design crafted by Hazel Tenefrancia.  The design is simple for branding purposes but it is also modern and professional.  It easily conveys the sport of the Ultimate and the fact that we are a Club.  The logo is also eye-catching and fun!  Plus it was designed by a TUC member.  A big thanks goes out to Hazel for all of her time and effort.  As well we would like to thank all of the designers who submitted logo concepts to the Club – we had some great options to choose from.
Published: Apr 12, 2013 - 02:30 PM
Read more about Toronto Ultimate Club Unveils New Logo (151 more word(s))
---